available with down-lights to also illuminate the piling or dock path.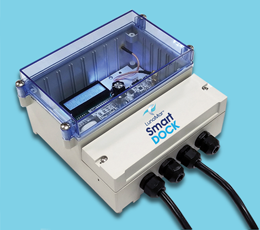 VHF Control for your Dock!
LunaMar SmartDOCKING Systems™ are new innovative docking technologies that allow boaters to take control of the dock or marina slip. LunaMar SmartDOCK™ and SmartSLIP™ solutions remotely activate personal dock or slip lights, lower a boat lift and more, well before arrival, through the VHF radio boaters already carry on board. LunaMar SmartNAV™ makes docking easier by guiding the boater to align the boat with the dock or slip space and accurately dock the boat.
Remotely activate Lunamar SmartDOCKING Systems BEFORE Arrival
LunaMar SmartDOCK and SmartSLIP use patent-pending innovative technology to enable boaters to remotely activate the systems using any type of VHF radio from over 1 NM away, so your dock or slip is prepped for arrival well in advance.

SmartDOCK means no more fumbling with a flashlight, taking precarious leaps
to turn on your dock lights, or standing off while waiting for the boat lift to drop.
SmartSLIP, configured for marinas, provides the same benefits for transient
and long-term slip holders.
Customers can locate their slip and dock with ease.
A valuable amenity and safeguard that makes your marina the
"go-to" place for boaters.

SmartDOCK and SmartSLIP are simple to use and easily
integrate with existing dock controls
LunaMar SmartDOCKING Systems are easy to use, simple to install,


and integrate with existing dock light and boat lift controls.
To activate SmartDOCK or SmartSLIP, simply enter a code of
your choosing into the VHF radio you already carry on board.
No extra devices or fobs to carry or lose!
Share the code with your friends, visitors, and marina customers
over the VHF to prep the dock or slip for their arrival.
SmartDOCK and SmartSLIP Systems are configured for use with existing dock and marina slip systems, and allow you to customize settings, such as the lighting duration, lighting patterns, how much to lower the boat lift into the water, and more.
Control how long the lights are on and whether you want a steady beam or blinking light to locate and illuminate the dock or slip.
Customize the boat lift settings based on your existing specs and water
level variations.

UPON arrival, Lunamar SmartNAV accurately guides
docking operations

SmartNAV is an innovative guided docking solution based on a unique
method to help align the boat with the dock or marina slip.
SmartNAV takes away the guesswork when docking during the
day and after sunset.
SmartNAV technology uses geometric algorithms and a set of
multi-colored LED lights to help accurately guide alignment with
the dock or slip.
Easy to use and flexible installation – locate SmartNAV on pilings,
dock ends, slip spaces, etc.